Katie Marie's in yesteryear again this week, although now she's getting techy, pining over a four-track tape recorder
Thanks ever so if you check out last week's article and gave us your thoughts on everything '80s, glad it made you think back to all things good (and brightly coloured in many cases! lol).
But thinking back to the good old days certainly made me start to think about when I first started getting into music, and indeed songwriting – which led me on to hunt out this little fellow: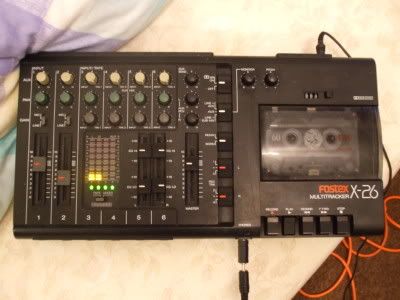 Yes, my very first ever 'proper' recorder! A trusty Fostex X-26 four track tape recorder. Which certainly brings back a lot of memories! I can still remember seeing this in a second-hand music shop in Torquay and it was £120… and although I was silly skint, I really, really wanted it! lol
I had a real crappy job at the time, I know most jobs are pretty crappy but I was a cleaner and I had to spend most of my time cleaning toilets for hardly any money. But after spending many weeks saving like mad I eventually saved up enough money to go off and buy it! (yay!)
As soon as I got my pay check I was straight off down to the music shop – but when I got there someone was trying it out and seemed like they were going to buy it.
Nooooooooooooooooooooooooooooooooooooooo!!
I hovered around inside the shop hoping they would put it down and walk away. Then after about 10 minutes I heard the guy say:
'Hmm, it seems like a good four track, but I'll have a think about it'
Yes!! No sooner had he walked away from it I was there waving my money around at the bloke who owned the shop saying: 'That four track tape recorder!! I want it!!' Looking back, I should have played it cool and tried to get it cheaper, oh well.
You probably wouldn't believe the amount of use this little tape recorder has had. I pretty much recorded everything I did and when I found this up in my parents' attic I also found a huge suit case crammed full of tapes! lol
I use to live in a caravan and I can remember when I was recording drums I use to dangle a really shitty mic over the top of the kit, and because I was so limited for space I had to press record on the Fostex, then go out the door, round the side of the caravan and climb through the window to get behind my drum kit! Then when I'd finished recording I'd have to climb back out the window, go through the front door and press stop lol Mad. It's really funny as most of the tapes I've listened to so far that have drums on you can hear me clambering in and out of the window!!
Loads and loads of great memories, think I got my money's worth out of it!
• Check out Katie Marie on MySpace, or on her website.
• If you're in a South Devon band, or if you're a singer/songwriter and would like your tunes to be played on Acoustic PM, send us a message through the Acoustic PM Myspace pofile or post your CDs to: Acoustic PM, Soundart Radio, Dartington College of Arts, Totnes, Devon, TQ9 6EJ